OJay Health Radio w/ Remi Coghiel & Tom Durrell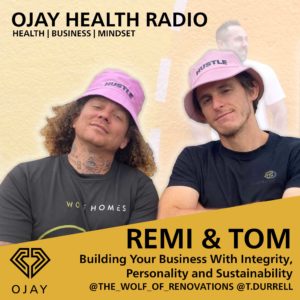 What happens when three like-minded guys sit and chat?
Add to that three like-minded guys who've known each other near on 25 years?
That's what happened in this episode
Tom Durrell (@t.durrell) and Remi Coghiel (@the_wolf_of_renovations) join Ollie on his sofa for a deeper than deep conversation where there really are no holds barred.
Remi and Tom are the guys behind the amazing property company Durrell & Wolf (https://www.durrellandwolf.co.uk) and we talk about how they've been their company with complete transparency, full of integrity but also having a care for this planet we live on at the same time.
The topics blend in through here into psychedelics, chats on self-harm, ego, being faithful and true to yourself, your journey, and story.
It's one of the most powerful episodes Ollie has recorded and one to be proud of.
Sit back and enjoy the show.
Who would you like to see Ollie interview on the podcast?
Let us know ollie@ojayhealth.com subject: Podcast idea.