Hi I'm Ollie
(That's me looking very thoughtful, probably thinking about nachos)
A recovering fat person who still thinks he is one slip-up away from going straight back there.
If you're busy, successful at what you do, feeling like you're being pulled left, right and centre – adding health and fitness into the mix is seemingly hard.
Your day is filled with busy meetings, an endless list of tasks you need to complete add to that you have a family at home, the school run, chores that need completing and food does not make itself, it's easy to just go the fast food route and skip a couple of exercise sessions, I get it.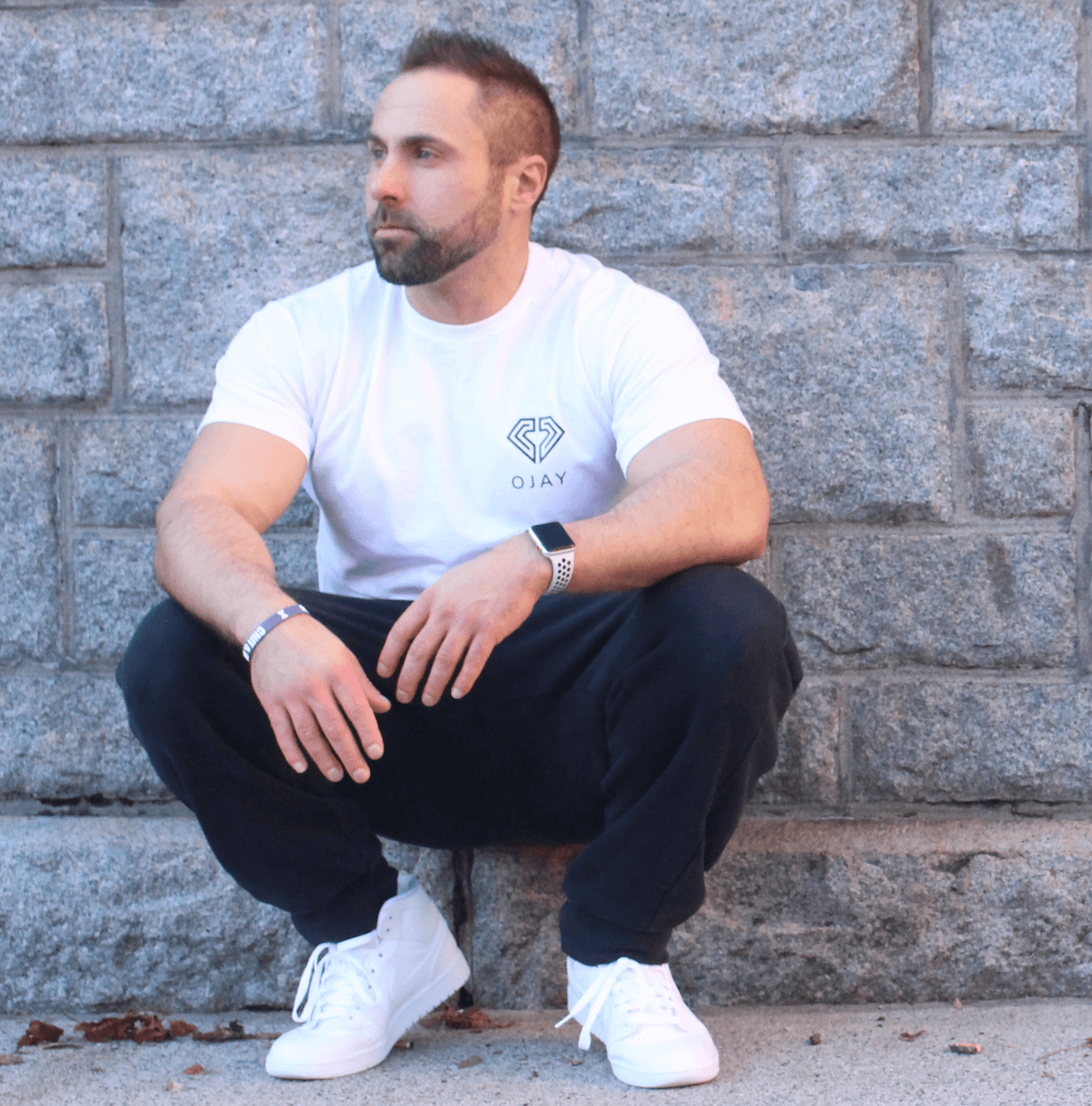 Ollie Matthews – Ojay Health Founder
That balance between doing the work you need to make the money to feed your family and the workouts you need to do alongside the food you have to eat in order to make sure you are physically able to care for them, it can literally drive you insane, I get it.
It's not that you can't have both health and wealth. It's just that it's not so easy.
Apparently.
When you make the decision to get into a healthy state it can be hard, at first.
Life is challenging and adding health into the mix, balancing everything could possibly be the most challenging thing you ever do.
There will be times when you feel like it's not worth it, like the scales are just laughing at you, like the weights aren't moving at all and you feel like you started to get energy and now you're just ridiculously tired, there will be some sort of moment when you think it's time to quit, regularly.
It's time someone started being honest about what it takes to be healthy in your entire life.
We all suffer from doubt that we won't be able to get the results we want, hell you have tried plenty of times before right?
No one wants to actually tell their friends and family they've quit another fitness regime.
And no one wants to die before seeing their children reach their full potential. (Believe me when I say it hurts to lose a parent at a young age)I want you to start being 100% honest with yourself about why, why now, why you want to change and how you will feel when you get there, who you will be when you get there – what DO YOU want?
Stop judging yourself by the latest Instagram pout selfie and other people's false If It Fits Your Macros food pics (they miss out the small print of actually eating vegetables, trust me)
In order to do that you have to find the way you want to go, the foods you love to eat, the foods your body loves you to eat and the movement that works 100% for you, none of this bullshit get fit quick scheme you end up falling off hitting straight up binge mode finding yourself in your biggest underwear at the bottom of the Ben & Jerrys tub like Bridget Jones with your quilt wrapped around you for comfort.
Disclaimer: I have seen Bridget Jones, actually liked it. What you gonna do about it?
If we have any hope of making sure you are successfully able to embark on this Revitalization Blueprint I talk of, the only fitness routine you will ever need as it's designed specifically for YOU. Then we need to chat now.
If you still want to know more about me then my 'formal' bio is below.
Ollie has lived the life. If anyone is practising what he preached then this is the guy.
In the beginning Ollie lost his father, a traumatic time led to extensive emotional eating making the weight shoot up to nearly 300lbs, it was then where Ollie was working in a corporate job and when being a 'successful guy' was mentioned this was the furthest anyone could possibly be – low confidence, high body fat, no sales skills, no morale.
When having sex and not wanting to take his top off it finally hit him, he needed to do something about it and got a membership at the gym, invested in his own personal trainer (who coincidently Ollie now mentors himself), this was the start of a massive chapter.
Ollie left the corporate world to add fitness as his job and swiftly dropped nearly 100lbs in 12 months to step onto a bodybuilding stage, it was here that learning about nutrition became vital, everything that could be taken on board was taken on board, every hack, every secret, every method was tried to find out what was best to drop weight and put on muscle. This had a dramatic impact on Ollie's life after 4 years doing this full time he was offered a position back in his previous job and how times had changed.
Within 6 months of accepting the job Ollie was the top sales guy in the company, this self-confident, powerful and driven individual could not be recognised when compared to his former self, fitness had literally laid the path to be the successful guy everyone was talking about within the company, this was great and it led to Ollie becoming a manager leading over 30 people at any one time.
This wasn't enough, Ollie had found his passion with his time in the fitness industry and this made him hungry, he was revitalised and had unfinished business after helping multiple people online he decided to take the leap and go back full time with this new attitude.
Ollie has now worked with people all over the world and having been brought up in a family full of endurance athletes actually became 'that guy' for nutrition in endurance working with Olympic athletes, world champion triathletes and even Tour De France riders whilst training personally in both strength and endurance himself knowing the importance of constant self development in all areas.
It was when looking back on the story of his father passing away before his time that he realised his calling. You see, his father was only trying to provide for his family, working his ass off and financial he was definitely providing but what was missing was the focus on his health, at 47 years old Trevor Matthews passed away suffering a stroke which, with a little more focus on both stress management and health from the inside out could potentially have been prevented.
Not focusing on health stopped Ollie's father from seeing massive events in his life – both Ollie and his sister's wedding days, granddaughter being born, graduations and even just literally going for a drive on a Sunday afternoon to watch the game.
Ollie's clients are and the development of Ollie's Health Reboot has literally changed the game, there is nothing else more important than yourself, this is why, as mentioned at the start, Ollie is the guy who practices what he preaches.