OJay Health Radio w/ Sam Capps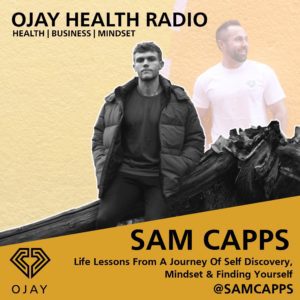 I'm joined with friend and amazing individual Sam Capps (@SamCapps) talking about how he has managed to achieve so much in just the 26 years he's been around on this planet.
When I say achieved it's a story I love listening to hearing such a wise mind on such a young student of the world. Sam is a personal trainer, business owner and most recently an artist diving into such deep levels of mindset you can see why this is one of my favourite podcasts to date.
Also he is part founder of Bro Society which has been powerful for many guys during 2020 @BroSociety
Enjoy
@OJayHealth
Health Optimization & Accountability For The World's Busiest People
International Best Selling Author 'The One Day Body Upgrade'
4 Steps To Reboot Your Health Without Dieting Or Going To The Gym https://ojayhealth.com/4steps-reboot-health-without-gym-dieting/
Get your free copy of The One Day Body Upgrade www.ojayhealth.co.uk/freebook
Who would you like to see Ollie interview on the podcast?
Let us know ollie@ojayhealth.com subject: Podcast idea.